Menorca Boat Trip – Private and Shared Boat Excursions – Menorca Boat Tours.
Boat Excursions Menorca – See the sea from the sea!!
The motto "see the sea from the sea" is the essence of our philosophy to fully experience the unspoiled nature of Menorca. Visiting the island from the sea offers a completely different view of the coast and let you to enjoy it in an exclusive way. Stop to swim in one of the countless coves, in bays with clear waters, explore the seabed, swim in the caves, and reach the less crowded beaches…
The possibilities for boat excursions are many, with all the possible variations of: where, which boat, when and with whom?
The "where" is conditioned by the "when" and that is by the weather. As you can read on the "where" page", you have to follow a very simple rule: always sail on the side of the island sheltered from the wind (if the wind is from the north, go south and vice versa). Therefore, it is always very important to check the weather conditions for the day set for the excursion. On the weather forecast page you will find all the information about the wind and the state of the sea.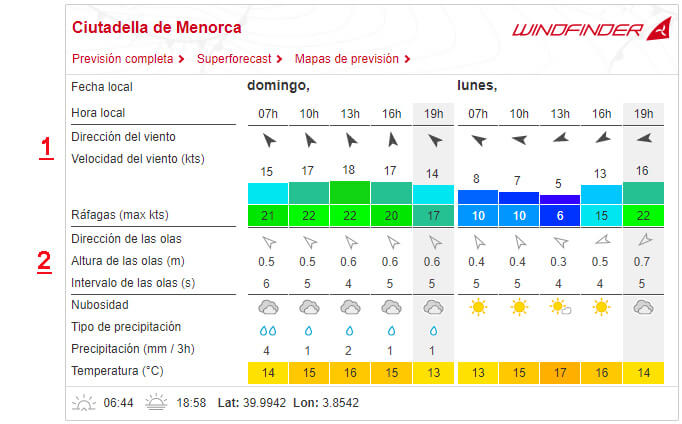 Once the weather has been checked, on the "where" page you can see the possible routes, listed according to the port of departure. The routes of the north coast, with the numerous "wild" and famous beaches such as Cala Pregonda, Cavalleria, Pudent and Mongofre can be reached from Ciutadella, Mahon or Fornells. The best known beaches of the south coast, such as Macarella, Turqueta, and Mitjana, can be reached with the southwest route from Ciutadella or Calan Bosch.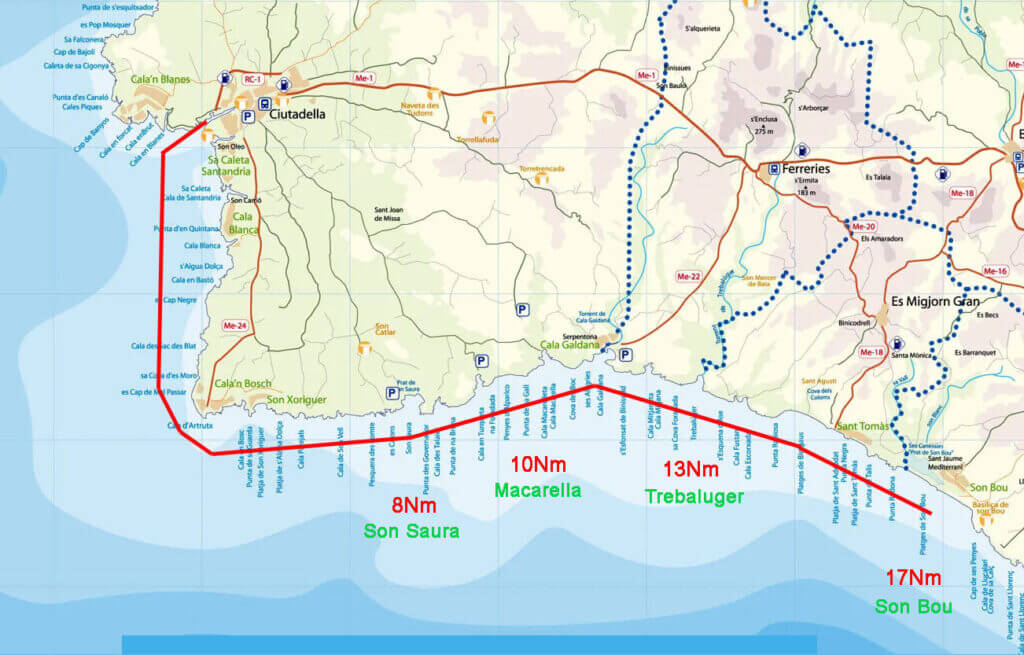 The "with whom" depends on whether you prefer a private excursion or a trip shared with other people. If you are a family or a group of friends, the private excursion allows you a total customization of the day at sea. If you are alone or as a couple, a shared excursion can be a great opportunity to spend a day with new friends. In any case, the shared groups never exceed 12 people, guaranteeing a quiet environment and easy personal relationships.
The private excursion can be done with any type of boat, according to the number of participants, with a professional skipper, which guarantees experience and safety. 
The excursion for big groups is organized with good-sized boats, which can accommodate up to a maximum of 12 passengers, such as the L'Amo, an elegant vintage motor boat or the luxury Gabia. On these boats there are comfortable solarium areas where you can enjoy the sun, dining area, and all the comforts. Are also available paddle surf or zodiac to reach the beach. Stops are scheduled at strategic points and time to be able to swim, snorkel, surf or explore caves.
The range of choice of possible boat trips in Menorca is therefore very wide. Whichever you choose, suited to your needs, it will be a wonderful memory of your holidays in Menorca
Tags: Boat Excursions Menorca, Boat Trip in Menorca