Jeep Safari Discovery Menorca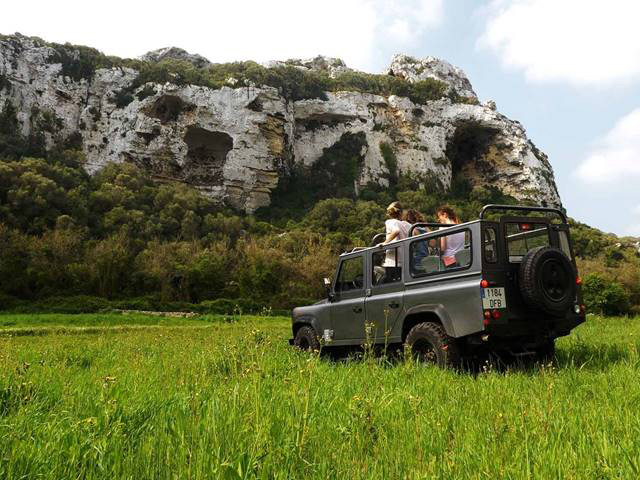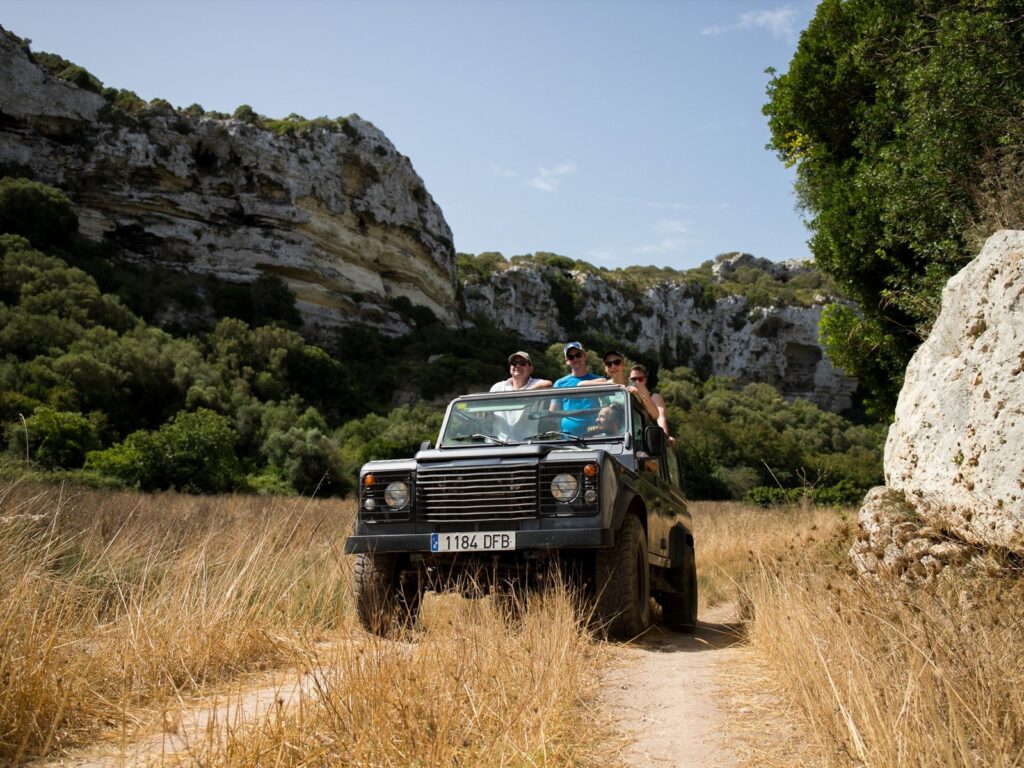 Jeep Safari Discovery Menorca - Island Discovery
If you are under the impression that Menorca is just a small island in the Mediterranean with fabulous beaches, surrounded by breath taking transparent blue sea, you will be impressed by this excursion.
An experienced guide will take you to some of the most stunning and exclusive locations accessible via private rural tracks. You will be able to enjoy some outstanding scenery, and learn about the culture and history of an island which is full of contrasts.
Jeep Safari Menorca offers a customised experience. You will have the opportunity to pet Menorcan horses, enjoy some of the most scenic landscapes, including steep cliffs and gorges, have a refreshing swim in warm turquoise waters, feel the gentle breeze as you travel along quaint rural trails on board one of our comfy vehicles.
Menorca is a natural Biosphere Reserve, it is shaped by gullies which lead to unspoiled coves, it hosts a wide variety of fauna and flora dotted around farmland separated by characteristic dry stone walls.
You will spend the day travelling on board a 4×4 vehicle which will take you on a trip to discover some of Menorca's hidden treasures, along rural tracks, feeling the sun and wind in your face. A unique experience.
Personalized Itinerary
We have some interesting proposals but we like you to contribute to the process. What do you like most about Menorca? Do you have a favourite place? We have access to exclusive sites such as the Son Fideu ravine. We will visit a riding school so you can get to know the Menorcan breed of horses, the protagonists of the local Menorcan fiestas. You will be able to walk along the walls of an old limestone quarry. Ever wondered how Menorcan cheese is made? you will be shown this process on a visit to a dairy farm where you will also be able to try the different varieties. There is also a visit to the Cavalleria lighthouse with its museum and its superb clifftop views, this is a trip you will never forget.
Specialist guides / languages
Our driver-guides are trained to answer all your questions about Menorca: the culture, the history, the geology, the fauna, the flora… Is there any subject you are especially interested in? Just let us know and we can prepare and itinerary to meet your expectations.
Time plan
For shared excursions the timetable is from 10 or 14.00 hours

For private excursions the times are agreed with the customer.
Booking places
Jeep Safari Menorca has 6 Land Rover Defender vehicles of 9 seats each. Depending on the number of people it is possible to book one or more vehicles for the same excursion.
Shared excursion​: You can book your place and share the vehicle with other customers. Unlike other companies, only one vehicle carries out the excursion at a time, with a maximum of 8 people; except for joint bookings of more than 8 people which need more than one vehicle.

Premium excursions​: You can book one or more vehicles for the exclusive 6 hours use of your group of family or friends.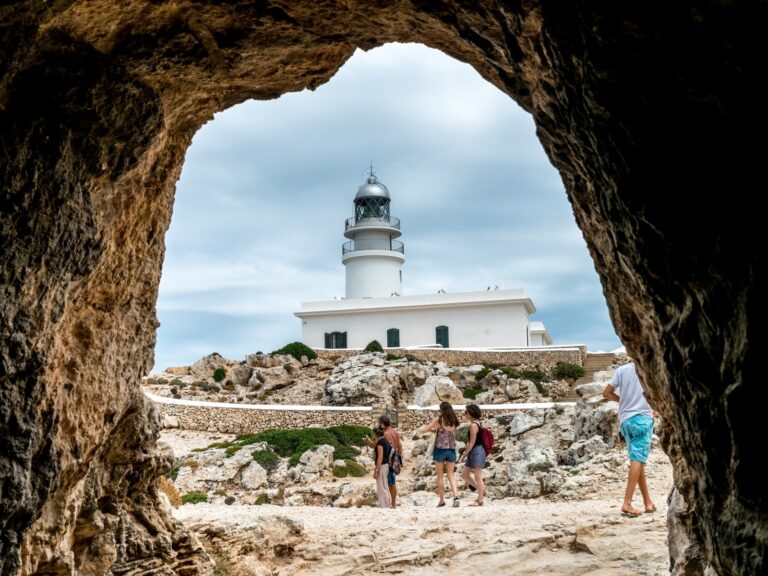 LIGHTHOUSES PERCHED ON CLIFFS

Scanning the horizon from the clifftops, the lighthouses of Menorca tell tales of shipwrecks, pirates and caves with hidden treasures. A sea full of adventure surrounds the island which can be both exciting and relaxing.
AMAZING GULLIES WITH TRICKY ACCESS

These gullies are hard to get to but with access to private paths through farms we can reach them. These steep valleys provide breath taking scenery, they are humid enough to support plentiful spectacular flowers and fruit trees… while the birds of prey fly elegantly between the cliffs and hide in small caves.
SPECTACULAR QUARRIES
Enchanting spaces left behind in the white rock which used to be used to build houses. Interesting shapes remain where blocks were carved out and the cuts made by quarrymen years ago are still visible. Vegetation now fills these spaces with colour, though now they have fallen into disuse, they were once full of craftsmen who created this peculiar landscape, block by block.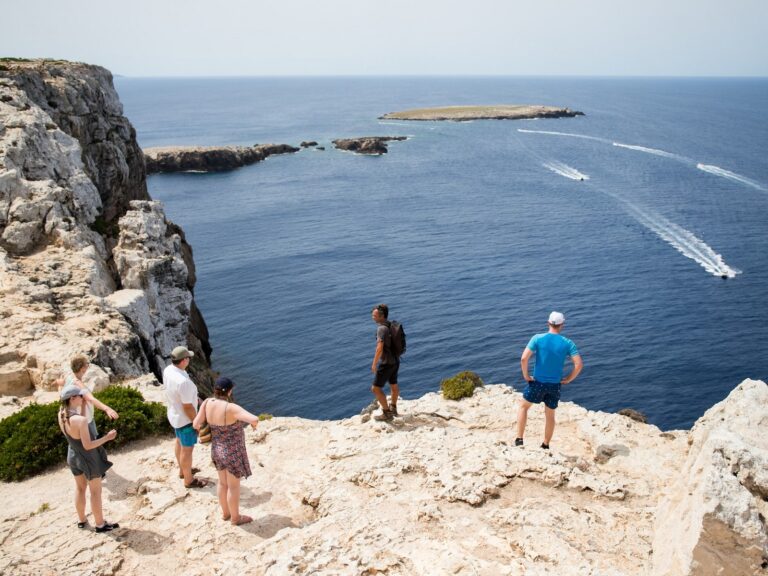 BEAUTIFUL UNSPOILED COVES

From the path you will be able to see the pristine north coast beaches with their transparent blue sea. Surrounded by rich red soils, their golden sand and rocky outcrops form fascinating scenery. Scenery which is both uplifting and inspiring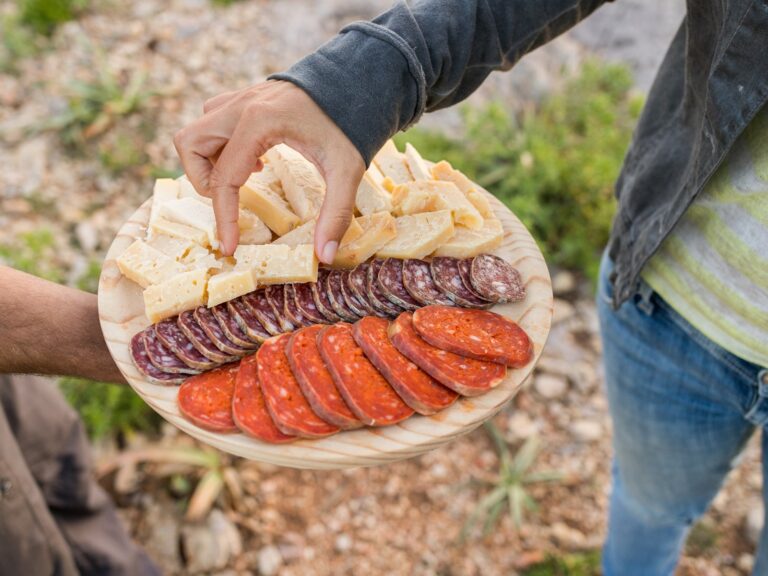 THE TRADITIONAL CRAFT OF CHEESEMAKING
They say that Menorcan cheese tastes of the sea, curiously this is partly due to the salty sea breezes which blow on to the meadows where the cattle graze. We will be shown how this Menorcan delicacy is handcrafted using ancestral methods. You will be able to try the different varieties of this cheese, which has been granted Protected Designation of Origin status.
UNIQUE SCENERY

Discover ancient water mills, archaeological remains, picturesque fields of horses gazing lazily back at you and vantage points which overlook towns such as Ferreries or Es Mercadal providing a very different perspective.
Includes
Collection from your accommodation or from the meeting point in Es Mercadal. You choose.

Experienced multilingual driver-guide

Land Rover equipped with a basic first aid kit

Third party civil liability insurance

On the shared Island Discovery excursions, you can bring your own food and we will stop somewhere special for you to enjoy eating in the countryside. 

On the Sunset Experience excursion, the food is included, regardless of whether it is a private or shared excursion.

At lunchtime on the shared Island Discovery tour we stop at Cavalleria's farm, and you can choose several options. On the one hand each client can bring their own food and share table with us, on the other hand we offer the possibility to choose the menu of artisan products of the farm with drink, fruit and coffee for € 15 adults and € 7 children up to 11 years included. In the private excursion we recommend and reserve in the best restaurants based on the preferences of the clients.
Recommendations
Comfortable footwear and clothing

Towel and swimwear

A hat and sunscreen

See Terms and Conditions