If you are under the impression that Menorca is just a small island in the Mediterranean with fabulous beaches, surrounded by breath taking transparent blue sea, you will be impressed by this excursion.
An experienced guide will take you to some of the most stunning and exclusive locations accessible via private rural tracks. You will be able to enjoy some outstanding scenery, and learn about the culture and history of an island which is full of contrasts.
Jeep Safari Menorca offers a customised experience. You will have the opportunity to pet Menorcan horses, enjoy some of the most scenic landscapes, including steep cliffs and gorges, have a refreshing swim in warm turquoise waters, feel the gentle breeze as you travel along quaint rural trails on board one of our comfy vehicles.
Menorca is an enchanting island and this is a chance to discover some of the most exclusive places in the company of an experienced guide, making for a truly memorable adventure.
This excursion will take you off the beaten track to some of the island's most captivating places which have limited access for a privileged few, you will see very diverse landscapes and learn about its great cultural and historical wealth.
We will take you to enjoy the sun as it sets over the horizon in a spectacular location on the edge of private wood by the sea. Whilst enjoying the evening breeze you will be able to savour a selection of the best local farm produce, and listen live music.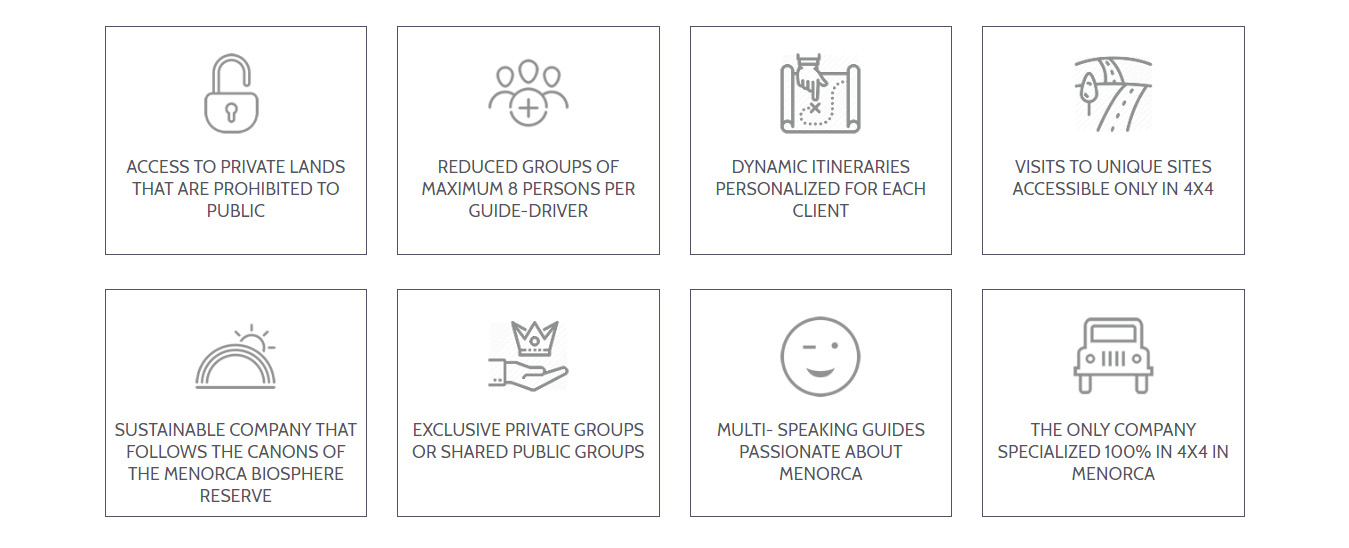 JEEP SAFARI MENORCA, THE COMPANY WHICH PUTS YOU FIRST
Pep Martí launched this project 5 years ago with a very clear idea in mind: "it's as if you have a friend in Menorca. You come on holiday and he shows you the best places his island has to offer. He knows the island well, is very passionate about it and has a high degree of respect for it and he will convey this in his excursions".
Jeep Safari Menorca has made agreements with landowners so that it is possible to visit some very exclusive corners of the island with private access.
The company's philosophy is: that you should feel you are among friends, that you can personalize your itinerary, and that you should enjoy the exclusivity of the excursions. "We make sure no one completes an excursion without feeling entirely satisfied."
To achieve this, Jeep Safari Menorca relies on a group of experienced guides who drive the vehicles. They receive training each year from experts in various fields relating to the island to ensure they have all the knowledge you could possibly need about Menorca.