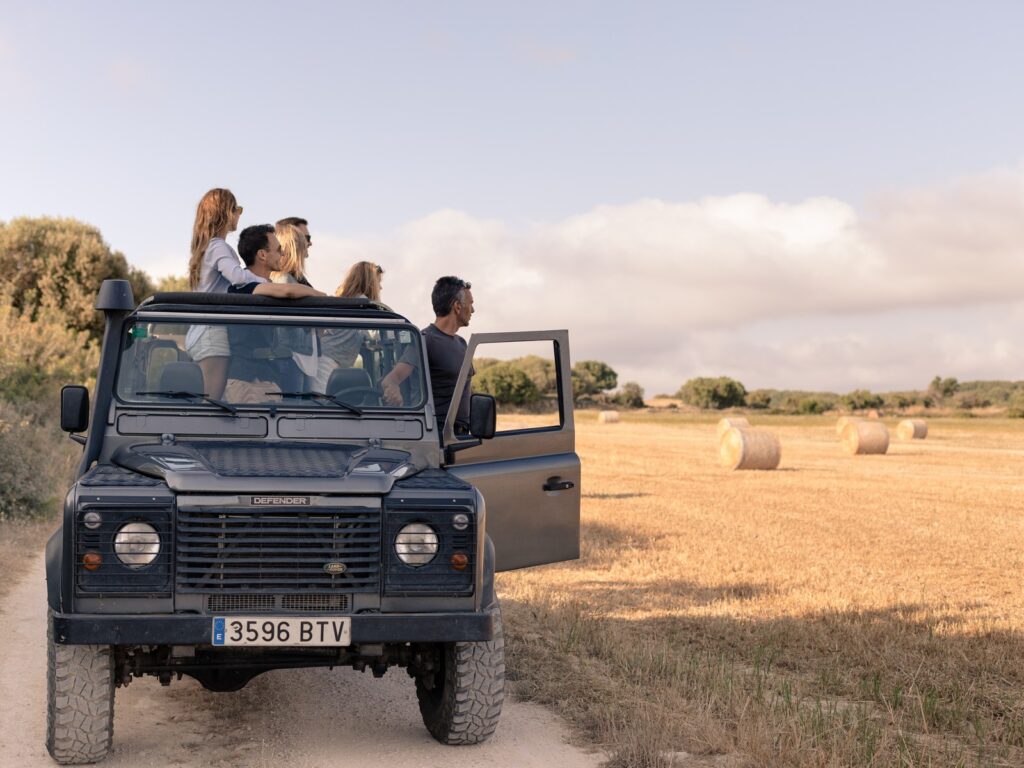 Menorca Jeep Safari - Sunset Experience
Menorca is an enchanting island and this is a chance to discover some of the most exclusive places in the company of an experienced guide, making for a truly memorable adventure.
This excursion will take you off the beaten track to some of the island's most captivating places which have limited access for a privileged few, you will see very diverse landscapes and learn about its great cultural and historical wealth.
We will take you to enjoy the sun as it sets over the horizon in a spectacular location on the edge of private wood by the sea. Whilst enjoying the evening breeze you will be able to savour a selection of the best local farm produce, and listen live music.
Introduction
Menorca is the first place in Spain where the sun goes down. Travel from midday to dusk, take in the contrasting colours of the landscape. Enjoy the changes in light and the cool of the evening air.
This Menorca Jeep Safari Sunset Trip shows you some of the most beautiful scenery in Menorca.
Personalized Itinerary
We have some interesting proposals but we like you to contribute to the process. What do you like most about Menorca? Do you have a favourite place? We have access to exclusive sites such as a private farm on the north of the island from where you will be able to gaze out over the most spectacular sunsets, without crowds of people, with uplifting live music and whilst savouring a selection of artisan farm produce.
This excursion across Menorca starts in the late afternoon and continues in to the early evening, you will experience the heat of the day dissipating and the cool evening air taking its place. The sun which lit up the landscape so strongly by day will give way to the contrasting colours of dusk falling. This excursion will fill you with wellbeing.
Specialist guides / languages
Our driver-guides are trained to answer all your questions about Menorca: the culture, the history, the geology, the fauna, the flora… Is there any subject you are especially interested in? Just let us know and we can prepare an itinerary to meet your expectations.
Time plan
For shared excursions the duration is approximately 6 hours and the times are decided according to time the sun sets.
For private excursions the times are agreed with the customer.
Booking places
Jeep Safari Menorca has eleven 4×4 vehicles. Eight of these are seven seaters and the rest are nine seaters. Depending on the number of people it is possible to book one or more vehicles for the same excursion.
Shared excursion​: You can book your place and share the vehicle with other customers. Unlike other companies, only one vehicle carries out the excursion at a time, with a maximum of 8 people; except for joint bookings of more than 8 people which need more than one vehicle.

Private excursions​: You can book one or more vehicles for the exclusive use of your group of family or friends. Drinks and a selection of local farm produce is included.
AN EXCEPTIONAL SUNSET
Exceptional because you will be able to enjoy dusk falling from a private location on the North coast, between the woods and the sea, surrounded by nature and accompanied by live music. It is very moving to watch as the sun fades into the horizon in a beautiful array of colours, the first sunset in Spain.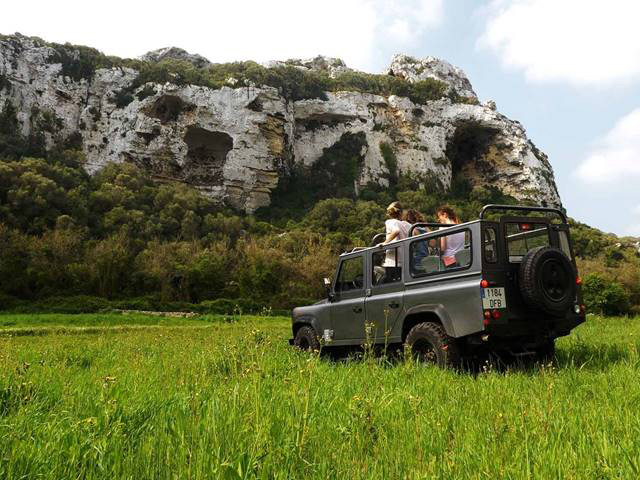 AUTHENTIC RURAL ENVIRONMENTS
Private rural paths which lead through woods, across valleys and towards pristine beaches. Fields bordered by dry stone walls built by hand without any mortar. Rural landscapes with reddish soils decorated with different shades of flora through the seasons.
MAGICAL QUARRIES
Spectacular shapes made by ancient quarrymen in the tall white limestone rocks. Abundant vegetation, which sometimes arises from the very stone. Magical open spaces which smell of rosemary and tell a tale of artisans over a century ago. A fascinating landscape.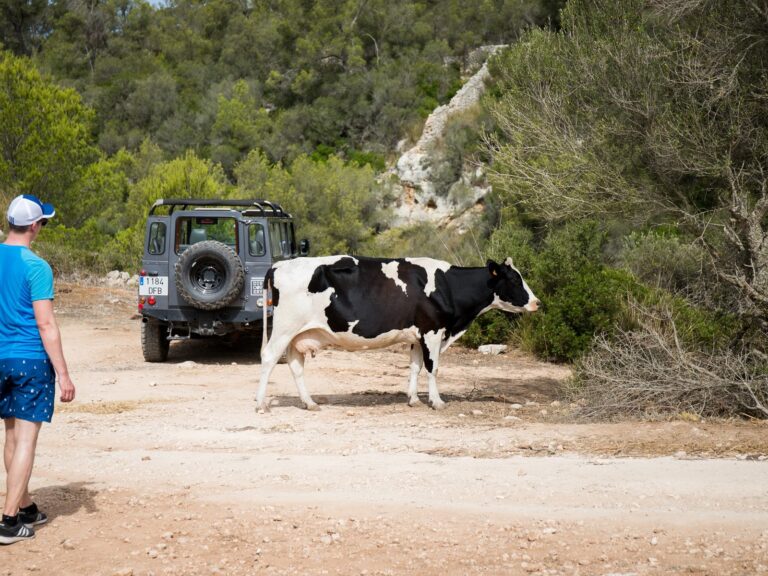 AMAZING GULLIES WITH TRICKY ACCESS
These gullies are hard to get to but with access to private paths through farms we can reach them. These steep valleys provide breath taking scenery, they are humid enough to support plentiful spectacular flowers and fruit trees… while the birds of prey fly elegantly between the cliffs and hide in small caves.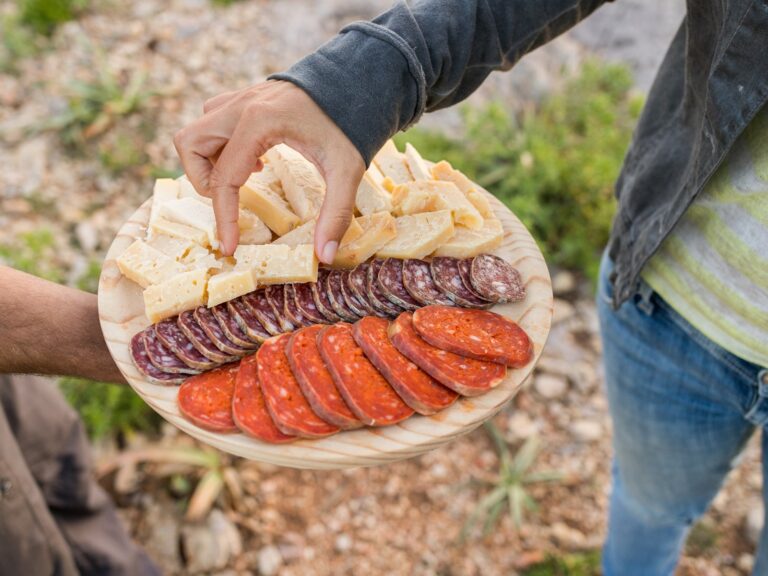 TRADITIONAL ARTISAN PRODUCTS
Menorca is perhaps most famous for its cheese, an exquisite and characteristic flavour of the island. Learn how it is made and try other local products such as the traditional sausages which form an important part of the Menorcan gastronomy. It is a delight to be able to enjoy all of this in the cool sea breeze of a beautiful secluded location.
UNIQUE SCENERY
Discover ancient water mills, archaeological remains, picturesque fields of horses gazing lazily back at you and vantage points which overlook towns such as Ferreries or Es Mercadal providing a very different perspective.
Includes
Collection from your accommodation or from the meeting point in Es Mercadal. You choose.

Experienced multilingual driver-guide

Land Rover equipped with a basic first aid kit

Cold drinks

Third party civil liability insurance

On the Sunset Experience excursion, the food is included, regardless of whether it is a private or shared excursion.
Recommendations
Comfortable footwear and clothing

Towel and swimwear

A hat and sunscreen

See Terms and Conditions