275. Shared Boat Excursions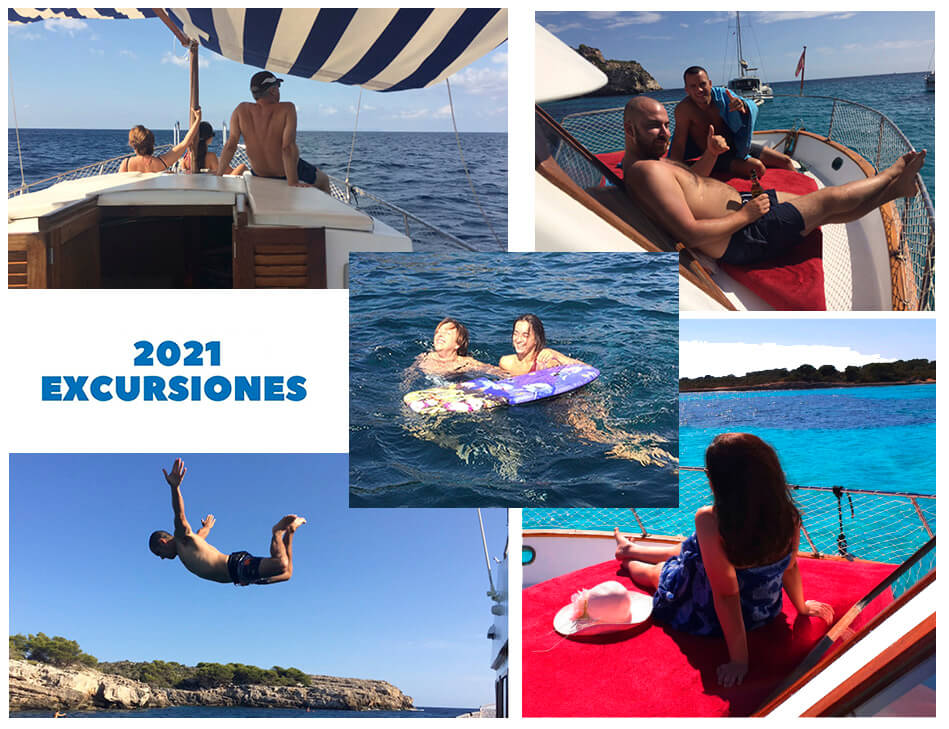 Shared Boat Excursions Menorca
Shared Boat Excursions Menorca
Visiting the island from the sea offers a completely different view of the coast and let you to enjoy it in an exclusive way. Stop to swim in one of the countless coves, in bays with clear waters, explore the seabed, swim in the caves, and reach the less crowded beaches… 
On the "where" page you can see the possible routes, according to the departure from Ciutadella. The routes of the north coast, with the numerous "wild" and famous beaches and the best known beaches of the south coast, such as Macarella, Turqueta, Galdana and Mitjana, can be reached with the routes from Ciutadella.
Shared Boat Excursions Menorca
Different boats can be used according to the number of passengers. Among these, in the case of couples or small groups, the new Tramontana motorboat, with a large solarium and comfortable seats in the shade of the bimini. For a greater number of passengers, up to a maximum of 12, we will sail with L'Amo, an elegant vintage boat or the modern and luxury Brigantium.
A refrigerator is available on all boats for storing drinks and fresh food. On the bigger boats you will find all the comforts, such as bathroom, dining table, paddle surf and auxiliary boat to reach the beaches.
Location: Port Ciutadella
Check-in time: 10.00
Check-out time: 18:30

Passengers can bring their own food and drinks on board or can order from the take away service. A refrigerator is available for all passengers. On bigger boats there is dining table with chairs and accessories.

Prices are per day, included VAT and insurance.
To make a reservation it is mandatory to pay the 50% of the price.
In case of bad weather, the excursion will be cancelled and will be offered an alternative date. If an alternative date won't be available the amount paid for the reservation will be returned.
Booking is easy!
1) Go to the calendar and make double click on the chosen date. The color will change from green to yellow.
2) Fill all the fields.
3) Choose and select the payment method. Then click "Book now!"
Once the payment is complete you will receive a confirmation email with instructions of meeting point.
| M | T | W | T | F | S | S |
| --- | --- | --- | --- | --- | --- | --- |
| | | | 02 September 2021Excursiones Privadas | 03 September 2021Excursiones Privadas | | |
| 06 September 2021Excursiones Privadas | 07 September 2021Excursiones Privadas | | 09 September 2021Excursiones Privadas | 10 September 2021Excursiones Privadas | | |
| 13 September 2021Excursiones Privadas | 14 September 2021Excursiones Privadas | 15 September 2021Excursiones Privadas | 16 September 2021Excursiones Privadas | 17 September 2021Excursiones Privadas | | |
| 20 September 2021Excursiones Privadas | 21 September 2021Excursiones Privadas | 22 September 2021Excursiones Privadas | 23 September 2021Excursiones Privadas | 24 September 2021Excursiones Privadas | | |
| 27 September 2021Excursiones Privadas | 28 September 2021Excursiones Privadas | 29 September 2021Excursiones Privadas | 30 September 2021Excursiones Privadas | | | |
| M | T | W | T | F | S | S |
| --- | --- | --- | --- | --- | --- | --- |
| | | | | 01 October 2021Excursiones Privadas | | |
| 04 October 2021Excursiones Privadas | 05 October 2021Excursiones Privadas | 06 October 2021Excursiones Privadas | 07 October 2021Excursiones Privadas | 08 October 2021Excursiones Privadas | | |
| 11 October 2021Excursiones Privadas | 12 October 2021Excursiones Privadas | 13 October 2021Excursiones Privadas | 14 October 2021Excursiones Privadas | 15 October 2021Excursiones Privadas | | |
| 18 October 2021Excursiones Privadas | 19 October 2021Excursiones Privadas | 20 October 2021Excursiones Privadas | 21 October 2021Excursiones Privadas | 22 October 2021Excursiones Privadas | | |
| 25 October 2021Excursiones Privadas | 26 October 2021Excursiones Privadas | 27 October 2021Excursiones Privadas | 28 October 2021Excursiones Privadas | 29 October 2021Excursiones Privadas | | |