012. Tramontana 500 Motor Boat
boat rental without license menorca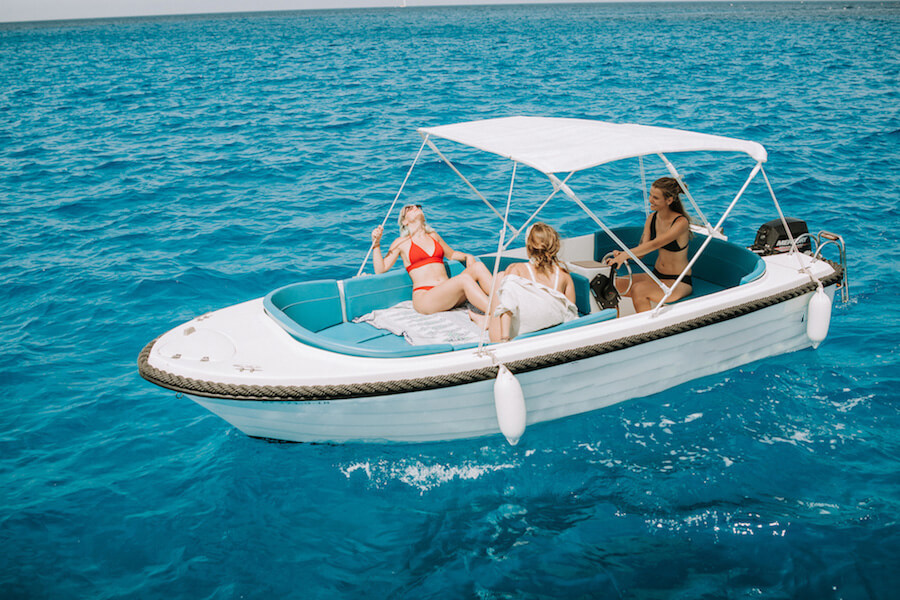 Tramontana 500 Motor Boat
Boat Rental without license Menorca
Tramontana 500 boat rental without license Menorca
Tramontana 500 motor boat hire no license
The TRAMONTANA 500 is characterized by its great stability and, despite its length, being very spacious at comfortable up to 5 people aboard. Very easy to drive, also by unexperienced sailors.
The boat rental WITHOUT LICENSE allows you to enjoy 5 or 8 hours of navigation in an incomparable natural environment.
With this boat will be possible to sail the entire Ciutadella South-West route that runs along the most famous beaches of the south coast, as Macarella, Turqueta, Galdana, and  the Ciutadella North-West route along the wild beaches of the north coast like Algaiarens-La Vall, Cala Morell, Pilar.
Tramontana 500 boat rental without license Menorca     –    Tramontana 500 motor boat hire no license
Characteristics
Length: 5m
Beam: 1,95m
Maximum people capacity: 5 adults 
Maximum speed: 17 knots
Engine: outboard 15 hp Mercury
Fuel Tank: 25L 
Included:
GASOLINE
Insurance
Portable fridge (ice not provided)
Bimini top
Solarium
VAT
Port fees
Final cleaning
Mooring in base port
Nautical License required: NO
Fuel included in the price: YES
Location: Ciutadella
Rental time:
09.30 – 14.30 (5 hours)
15.00 – 20.00 (5 hours)
10.00 – 18.00 (8 hours)
Check-in will be done 15 minutes before your departure time.
Punctuality is required  for the check-out. Otherwise an economic penalty will be applied.
Rental prices are per day, included VAT and insurance with deductible.
To make a reservation it is mandatory to pay the price of the rental.
A deposit is not required.
Gasoline IS included in the rental price.
In case of bad weather, the boat won't be delivered and will be offered an alternative date. If an alternative date won't be available the amount paid for the reservation will be returned.
MAY 1 – JULY 9 / SEPTEMBER 11 – OCTOBER 31
5 hours rental 215,00 €
8 hours rental 306,00 €
JULY 10- SEPTEMBER 10
5 hours rental 250,00 €
8 hours rental 360,00€
Booking is easy!
1) Go to the calendar and make click on the chosen date. The color will change from black to blue.
2) Click "Next"
3) Fill all the fields.
4) Choose and select the payment method. Then click "Make Booking!"
Once the payment is complete you will receive a confirmation email with instructions and contacts for the delivery of the boat.
Important:  the Skipper Service is available on demand (190€). Please apply for it after booking by clicking here.
012. Tramontana 500 Boat Rental Without License
Tramontana 500 motor boat rental without license Menorca - Tramontana 500 motor boat hire no license