003. Llaut S'Avia no license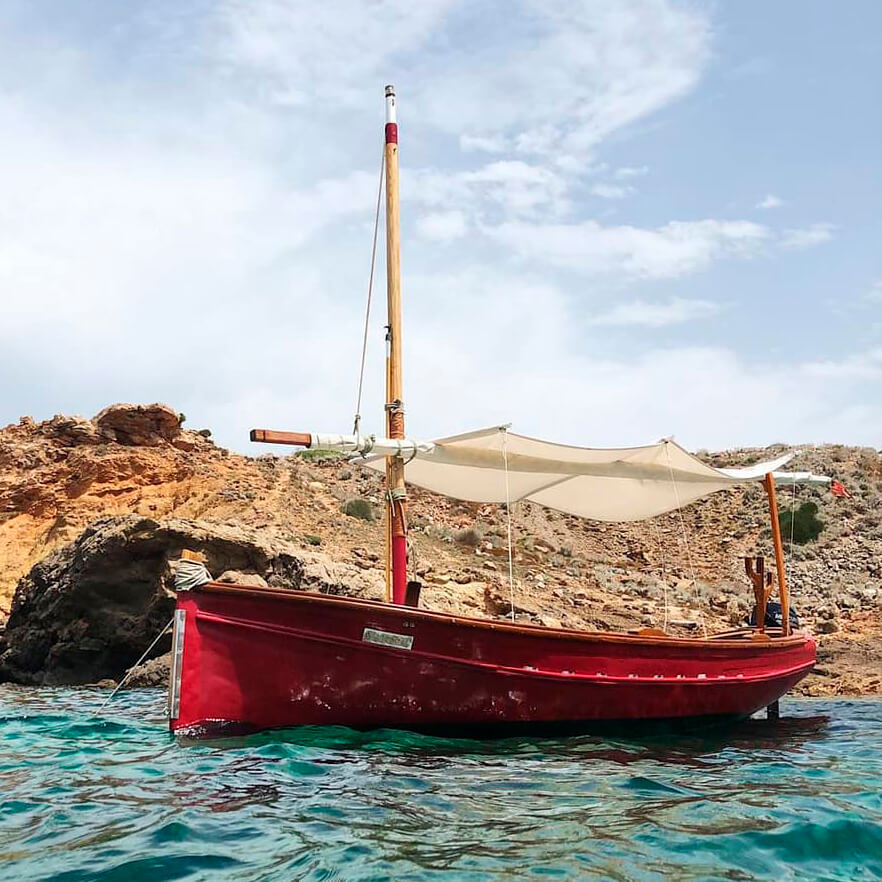 Classic Boat Rental without license Menorca
Classic boat rental without license Menorca
Looking for a classic boat adventure? Look no further than S'Avia, a perfectly maintained wooden boat built in 1939 that requires no license to sail. The boat is easy to sail and provides a comfortable and stable ride while sailing along the stunning coast of Gulf of Fornells and Cap Cavalleria.
Begin your day with an enticing itinerary that includes hidden beaches, coves, and rock formations along the coast. Explore sea caves and take in the breathtaking views of the Mediterranean Sea.
Take a dip in the crystal clear waters and go snorkelling to discover the underwater world. Relax and sunbathe on the solarium while enjoying a refreshing drink from the portable fridge.
The boat can accommodate up to 4 people and comes equipped with a bimini top to provide shade where needed, a dinette table for dining, and a swim ladder for easy access to the water.
Experience the beauty of the Mediterranean Sea in a unique and special way aboard this classic boat. Our team will teach you how to drive the boat, to anchor and will show you the nautical chart.
Classic Boat Rental without license Menorca
Model: Classic Llaut Menorquin
Length: 5 m
Engine: Outboard
Capacity on board: 4 people
Portable Fridge
Bimini top
Solarium
Dinette table
Swim ladder
GPS
Boat License required: NO
Fuel included in the price: YES
Location: Port Fornells
Check-in time: 10.00 – 15.00
Check-out time: 14.00 – 19.00
Rental prices are per day, included VAT and insurance.
Deposit at check in: 200 Euro
To make a reservation it is mandatory to pay min 50% of the price of the rental.
In case of bad weather, the boat won't be delivered and will be offered an alternative date. If an alternative date won't be available the amount paid for the reservation will be returned.
Booking is easy!
1) Go to the calendar and make click on the chosen date.
2) Click on the chosen Time Slot.
3) Fill all the fields.
4) Click on "Continue" and go to the Confirmation Page.
Once the payment of the deposit will be complete you will receive a confirmation email with instructions and contacts for the delivery of the boat.
003. Llaut S'Avia no license
Classic Boat Rental without license Menorca